Thesis – Model Complete!
It's been a feverish two weeks of work for me but it's paid off. The model is complete. There are some minor adjustments to make so that the results look pretty and paper-ready but the main course is done. I have included a couple of images of the current scenario running. Keep in mind that this scenario is:
Wind Farm on Bear River Ridge with maximum 70MW output
A 25MW solar power plant in Southern Humboldt near Redway
A 25MW solar power plant in Northern Humboldt near Blue Lake
A 50MW wave farm off the coast.
32.5MW Humboldt Redwood Company plant at 75% capacity
18MW Fairhaven plant at 75% capacity
13.8MW Ultrapower plant at 75% capacity
It should be noted ahead of time that this scenario does not meet the power needs of Humboldt County. There are some times of night when the wind dies down and the sea is calm during which the biomass just does not meet the peak demand. See for yourself.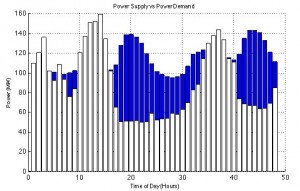 More data to come as I continue work on my presentation and write-up.
---
---